List of duty stations:
California:
Naval Medical Center San Diego [NMCSD]
England:
RAF Mildenhall
Italy:
Aviano Air Base
California:
Fort Irwin
Germany:
Kapaun Air Station
California:
Defense Language Institute
Spain:
Naval Station Rota Spain
If you'd like to be featured on the Duty Station Diaries see below for info. If you've been featured feel free to use these buttons to promote the series and brag about your participation: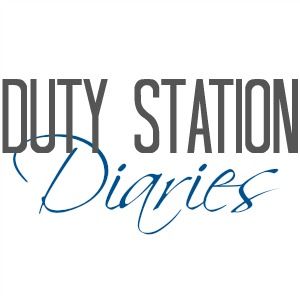 Please link buttons to: http://milsobloggers.blogspot.com/p/duty-station-series.html
---
Want to join the Duty Station Diaries? It'll be a great way to introduce yourself, your blog, and your duty station as well as connect with other spouses who are at, will be at, or have been at your location. Feel free to fill one out for each duty station you've been at, the more the merrier!
Answer the following questions for your feature piece:
What is the name of your duty station?
Where is it located? (City/State/Country)
How long have you been there?
Any tips for incoming military members?
Say you're hosting an out of town guest and you only have time to take them to three places or do three things. Where do you take them?
Have you checked out any local festivals or events? (Example: Iditarod in Alaska)
Where are your favorite places to eat/drink?
Are there any local foods/drinks/anything that you love? (Example: shave ice, malasadas in Hawaii)
What's your favorite thing about your station/city/surrounding area?
Anything else you want to talk about?
---
Also, please include the following:
-- Pictures that relate to your answers (You don't need a picture per answer, but please include at least a few photos. Your own photos are preferred.)
-- A quick introduction of yourself and/or your blog (Just 2-5 sentences, nothing major)
-- Your blog button or a picture of yourself
-- Social media links you'd like shared
Email all of the above to milsobloggers@gmail.com
*
Dropbox
is awesome for photo/document sharing, but attachments or links are fine too